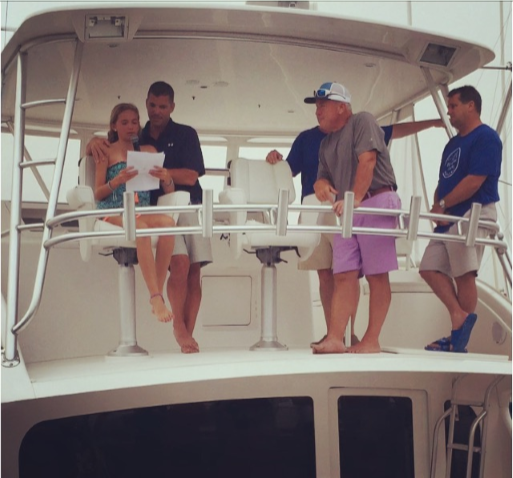 CONDYNE'S JEFFREY AND DONALD O'NEILL PARTICIPATE IN THE 15TH ANNUAL 'BIG GAME BATTLE' INVITATIONAL FISHING TOURNAMENT TO BENEFIT THE JUVENILE DIABETES RESEARCH FOUNDATION
Braintree, MA (August 23, 2016) – Condyne Capital Partners was represented at the 15th Annual 'Big Game Battle' Invitational Fishing Tournament to benefit the Juvenile Diabetes Research Foundation. The firm's owners Jeffrey O'Neill and Donald O'Neill joined over 300 participants to catch a wide assortment of game fish off Nantucket Island in an effort to raise funds for the organization.
The Juvenile Diabetes Research Foundation is the leading global organization funding Type I Diabetes (T1D) research. It was founded in 1970 and its exclusive focus is accelerating life-changing breakthroughs to cure, prevent, and treat T1D and its complications. The organization achieves this mission through allocating donated funds to lab studies and clinical trials. It invests in multiple therapeutic approaches and breaks down its work into several programs including glucose control and artificial pancreas, encapsulation, complications, prevention, and restoration. The organization depends on generous donations from fundraisers as well as volunteers for its cutting-edge scientific studies (www.jdrf.org).
Jeffrey O'Neill and Donald O'Neill co-founded the 'Big Game Battle' in 2001 at which time there were 3 boats and crews entered in the competition. In 2016, the tournament had expanded to over 50 registered boats. The Big Game Battle Committee works hard to organize the event and choose a worthwhile cause to support on an annual basis. The competition has raised well over half a million dollars for various charities throughout its duration and raised $340,000 for the Juvenile Diabetes Research Foundation this summer alone. The event has fundraised for organizations such as International RETT Syndrome Foundation, Camp Harbor View Foundation, ALS, Nantucket STAR Program, The Boys and Girls Club of Dorchester, National Multiple Sclerosis Society, and much more.
"The Big Game Battle is a good time had by all," commented Donald O'Neill Vice President of Condyne Capital Partners, LLC and Big Game Battle Committee Member. "This summer marks the most successful fundraising efforts to date and we could not have been more pleased to make a donation to the Juvenile Diabetes Research Foundation. We look forward to even more turn out and funds raised next summer."
Condyne Capital Partners places great emphasis on charitable causes and community engagement. The firm's owners Jeffrey O'Neill and Donald O'Neill make continued efforts to have a positive impact on the world and encourage their personnel to do the same. In the words of Donald O'Neill, "If you have the chance to make a difference in the lives of others, take it."