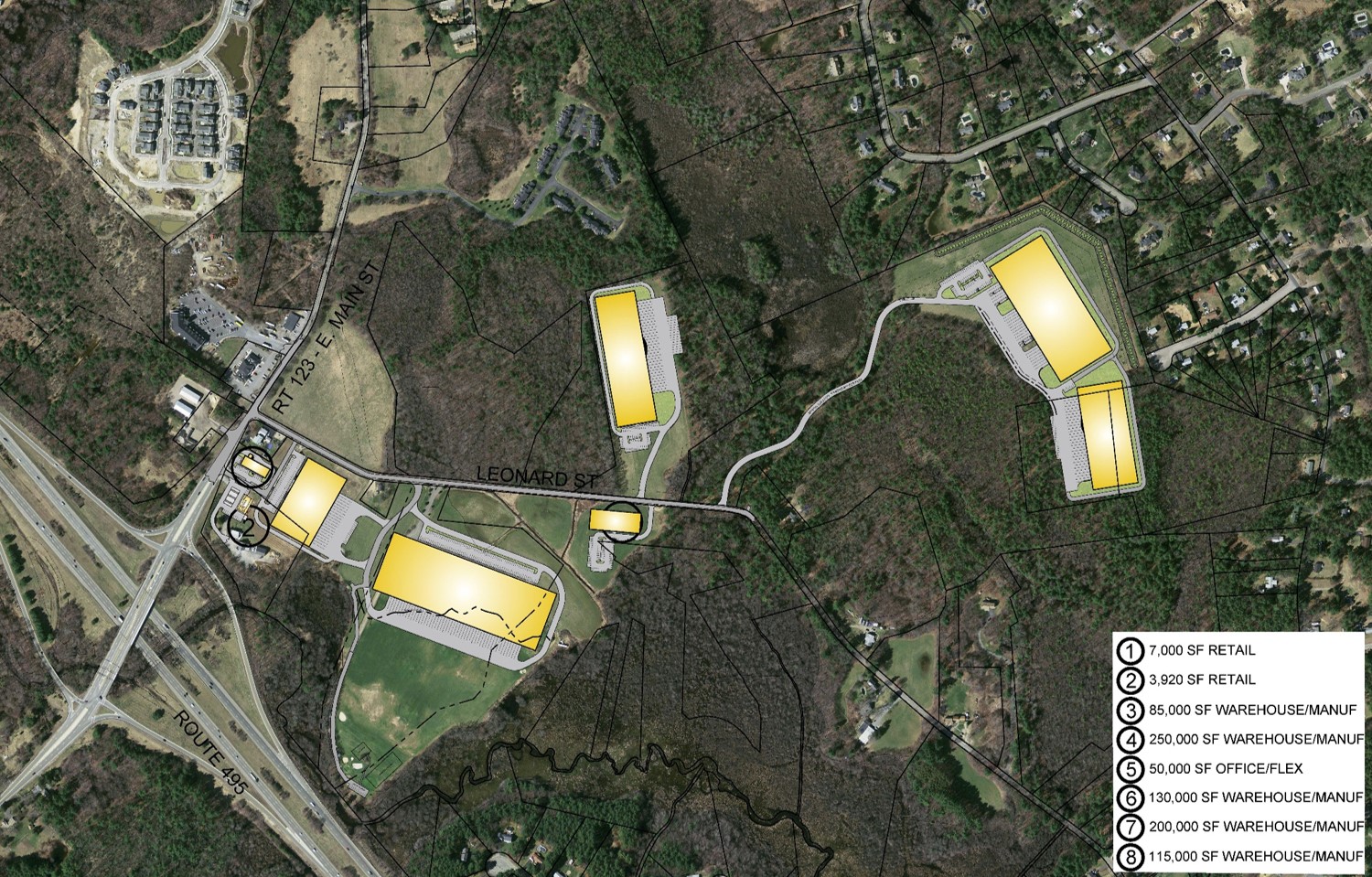 CONDYNE CONSTRUCT INC. PROPOSES DEVELOPMENT OF INDUSTRIAL BUSINESS PARK IN NORTON, MA
Braintree, MA (September 28, 2016) – Condyne Construct Inc. (Condyne), a vertically integrated real estate development firm that specializes in the New England market, has announced its proposal to develop a new industrial business park on the Houghton land in Norton, Massachusetts. The proposed park will consist of office and warehouse buildings and is estimated to be completed within 3 years of the start date inclusive of permitting and infrastructure improvements. The proposed industrial business park will be located adjacent to Route 495 which will minimize the traffic impacts to the area, while the project is expected to result in numerous economic benefits to the Town of Norton and its residents.
The proposed development will include 841,000 square-feet (s.f.) of various types of industrial buildings on a site spanning approximately 190 acres. A site of this scale was reviewed for a number of possible uses, including the potential for a retail development, a 400+ unit 40B residential apartment project or other residential options, but the highest and best use for the property was envisioned to be an industrial park. The proposed business park will have a minimal impact to the Town's essential services including police, fire, and water and sewer and will be less intrusive to the surrounding community than a residential or retail development. The park will also provide a potential increase of $650,000 to $850,000 in annual taxes paid to the Town of Norton. To lessen any potential impacts to its abutters, Condyne is proposing a minimum buffer of 100 feet from its residential neighbors and plans to provide berms and trees for visual, sound and landscaping benefits. Additional tax benefits could include a projected $130,000 or more in annual excise tax revenue that is directed to the Town of Norton where tenant's vehicles are garaged. The new facilities are expected to create a minimum of 150 to 200 new permanent jobs and provide opportunities for construction jobs that will benefit workers in the Norton and greater 495 South area.
Condyne previously oversaw the development of the Norton Commerce Center, a thriving industrial and business park located in Norton. Utilizing this experience, they hope to create another successful project with a tenant mix which becomes integrated into the local community. Tenants in the Norton Commerce Center have exhibited generous Corporate Social Responsibility (CSR) practices since their move into the industrial business park. These tenants have been known to support various town initiatives including fundraisers, youth sports, charities, and internships. It is expected that tenants within the proposed industrial business park to be developed on Houghton Farm land will continue the same CSR initiatives and make charitable contributions to the Norton community. Condyne intends to build paths for walking and running where the current driving range is located, and notes the remaining area could be used for the development of recreation fields in the future. In addition, portions of the land are slated to remain open so that the public is able to access the Canoe River, including a boat drop off and a small area for parking.
The proposed development also plans to provide a number of infrastructure improvements to the surrounding area including a new traffic signal to Route 123 allowing safe access for vehicles entering and exiting both sides of the main road. The traffic control will direct vehicle operators to use Leonard Street to Route 123 and Route 495. Truck traffic to or from the planned development will not be allowed to turn onto the streets in the abutting residential neighborhoods. Furthermore, Leonard Street will be widened and improved to accommodate vehicles of all kinds that are used in and serve the new business park.
Condyne's proposal also includes the installation of new or upgraded street pipes for water and sewer connections that will result in an improved flow to the area. The industrial business park will be a minor sewer user that can benefit from the excess volume the Town of Norton has access to with the assistance of Tri-Town Waste facility located near the Norton Commerce Center. There will be well access for water supported with the potential of rainwater leaders to provide additional irrigation for the landscape systems. The bushes and shrubs installed at the exterior of the facilities will be of a variety which require low water. In addition to the water conservation efforts in the new industrial business park, Condyne will make an effort to limit and reduce greenhouse gas emissions and provide for sustainable development practices including features such as low flow flush restrooms as well as energy efficient HVAC equipment and refrigerators.
In closing, Condyne's proposal to develop a new industrial business park on the Houghton Farm land will create invaluable benefits for the Town of Norton. The new development with its signage, building designs, and architectural features will make it a premier industrial park in Southeastern Massachusetts. A warrant article, requiring a 2/3rd's Vote, to change a portion of the local zoning from residential to industrial is scheduled for the Fall Town Meeting.