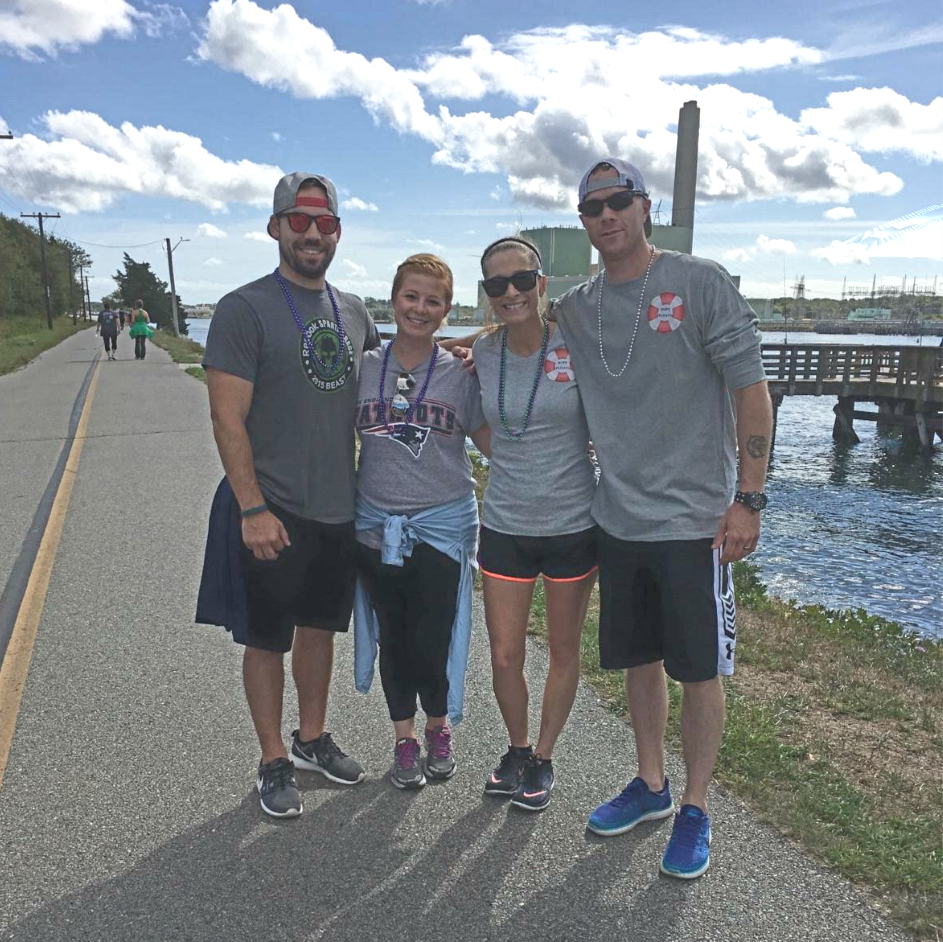 CONDYNE'S NICOLE STERLING PARTICIPATES IN THE 5TH ANNUAL SOUTH SHORE/CAPE COD 'OUT OF THE DARKNESS' COMMUNITY WALK TO BENEFIT THE AMERICAN FOUNDATION FOR SUICIDE PREVENTION
Braintree, MA (October 3, 2016) – Condyne Capital Partners was represented at the 5th Annual South Shore/Cape Cod 'Out of the Darkness' Community Walk to benefit the American Foundation for Suicide Prevention (AFSP). The firm's Director of Marketing, Nicole Sterling, joined over 50 walkers at the Scusset Beach State Reservation in Sagamore, MA for a 5K walk held to raise funds for the organization.
The American Foundation for Suicide Prevention is a non-profit organization that was founded in 1987 with a mission to save lives and bring hope to those affected by suicide. In order to achieve this mission, the organization funds scientific research, offers educational programs for professionals, educates the public about mood disorders and suicide prevention, promotes policies and legislation that impact suicide and prevention, and provides programs and resources for survivors of suicide loss and individuals at risk (www.afsp.org). The South Shore/Cape Cod 'Out of the Darkness' Community Walk was founded in 2012. The event is dedicated to understanding and preventing suicide through research education and advocacy, and to reaching out to individuals with mental health disorders and those impacted by suicide.
Sterling has participated in the South Shore/Cape Cod Community Walk since its inception. She has been a top fundraiser for 3 out of 5 walks, and has received the "Lifesavers Award" presented to individuals who raise over $1,000 for the annual event. Sterling is the Captain of Team 'Hope Floats', and has raised over $5,000 for the organization in total from individual donations, corporate donations, and a fundraising event held at a local business. Sterling started the endeavor in 2012 as an individual participant and has since grown her team with assistance from family and friends.
"AFSP's South Shore/Cape Cod community walk is a worthwhile cause that I am proud to support on an annual basis," commented Sterling. "It has been rewarding to watch the event and the team grow over time in correlation with the funds raised. It is also a moving experience to hear stories of both suffering and healing from other walkers. It is important to have a conversation about mental health."
Condyne Capital Partners places great emphasis on charitable causes and community engagement. The firm has contributed to much non-profit organization since it was founded. In addition, the firm's owners Jeffrey O'Neill and Donald O'Neill co-founded an annual charitable invitational fishing tournament called The Big Game Battle held on Nantucket Island each summer. The event commenced in 2002 and has since attracted over 50 boats and crews, and has raised over half a million dollars for organizations such as the Boys and Girls Club of Dorchester, National Multiple Sclerosis Society, ALS Association and much more. Condyne Capital Partners was honored to add the American Foundation of Suicide Prevention to its list of charitable contributions and support one of its own as she lived out the values that Condyne deems important and instills in its personnel.